Cable Technology Blog[col=300]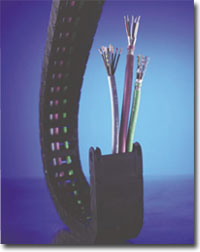 The laying of cables in cable track has to be done carefully. SAB recommends following these guidelines for installing continuous flex cables into a cable track:
Lay the cables separately side by side. In cases where cables with different diameters are laid on top of each other, we recommend the use of separators.
Cables with an outer diameter < 0.394 inches (10mm) that cannot be installed with separators should be loosely placed in a guide hose in the cable track. The section of the hose has to be considerably bigger than the sum of all cable sections.
The cables should be movable in the separator. There must be 10% free space between the cable diameters and also the internal dimensions of the cable track, for safety reasons.
Make sure that the cables do not exceed the bend radius. In cases where there are several layers of cables the cables need adequate clearance at the bending point.
The laying of the cables in the cable track has to be torsion free (non-rotational), therefore, the cables must be unwound from the reels before being installed. (Do not lift off of the reels in loops).
The weight arrangement in the cable track or in the links has to be done symmetrically, with the heavy cables laid towards the outside of the cable track and the smaller ones in the middle.
All cables have to be strain relieved at the fixed point and at the driving feature. There should only be large surface pressure on the outer jacket. Pay close attention to how the cables are clamped to avoid any squeezing of the conductors and any displacement of the cable.
Generally only cables rated for continuous flex should be used in C-track applications. Also, the recommended bending radius for the particular SAB cable being used, needs to be strictly adhered too.
SAB tray cables and flexible motor supply cables have achieved the UL WTTC approval in accordance with UL subject 2277.
SAB North America announced that its full line of tray cables and flexible motor supply cables are approved by Underwriters Laboratories as Wind Turbine Tray Cables with 1000 volt rating and operating temperature designed to meet the UL WTTC subject 2277 standard.
SAB has a wide range of cables with insulation/jacket/shielding options that meet and exceed the WTTC standards.
For additional information contact SAB North America TOLL FREE at 866-722-2974 or by e-mail at This email address is being protected from spambots. You need JavaScript enabled to view it.